This is the page to help you find tourist information for the city of Cádiz. The main tourist offices in Cádiz are run by both local and regional (Andalucian) government. There are main offices and also smaller ones located around the city.
Tourist offices in Cadiz city offer a range of services and resources for visitors. Some reasons to visit a tourist office include:
Tourist information: Tourist offices provide information about local attractions, events, and activities, helping visitors plan their trip and make the most of their time in Cadiz.
Maps and brochures: Tourist offices offer free maps and brochures of the city, providing valuable information about the local area and points of interest.
Ticket booking: Some tourist offices in Cadiz offer ticket booking services for popular attractions and events, making it easy for visitors to reserve their place in advance.
Recommendations: Tourist office staff are knowledgeable about the city and can offer personalized recommendations based on visitors' interests and preferences.
Language assistance: For visitors who don't speak Spanish, tourist offices can provide language assistance and help with any language-related questions or concerns.
Overall, visiting a tourist office in Cadiz can make your visit more enjoyable and help you get the most out of your time in the city.
Centro de Recepción de Turistas
The main tourist office in Cádiz run by the town hall (ayuntamiento) is located on Paseo de Canalejas in one of the best-known open spaces in the city. You'll find it located in front of the port, close to Plaza de San Juan de Dios and the Town Hall (ayuntamiento).
This reception center has visitor information with English speaking staff. There is plenty of information available about the city, what to visit and upcoming events
Official websites (in Spanish)
---
The Andalucia Tourist office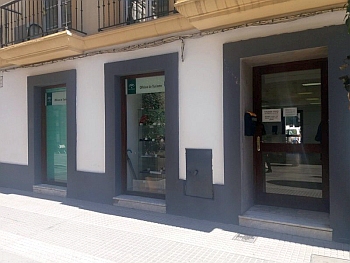 This office is run by the regional government of the Junta de Andalucia. Multilingual staff has lots of information about the city of Cádiz. Also available is general information for the province of Cádiz and Andalucia as a whole. Well worth a visit if you on an extended tour of Andalucia as its filled with ideas about what to do and where to go next.
It's easy to find on the street called Avenida 4 de Diciembre de 1977
Web. https://www.andalucia.org/en/cadiz-information-services-cadiz
Facebook: https://www.facebook.com/viveandalucia
Twitter: https://twitter.com/viveandalucia
Other tourist offices in Cádiz
Apart from the The main tourist offices in Cádiz you'll find other smaller information points in various places.
Punto de Información Playa Victoria
Open during the summer months from the 1st of June until the 30th of September this information point is located on the paseo marítimo (promenade) of the Victoria beach. Leaflets and general information about what to do and see in Cádiz and surrounding areas.
Punto de Información Playa de la Caleta
Open during the summer months from the 1st of June untill the 30th of September this information point is located on the paseo marítimo (promenade) of the Caleta beach. Leaflets and general information about what to do and see in Cádiz and surrounding areas. However this point boasts information in Spanish, French, English, german and Italian
---
Ronda Today. Everything you need to know before you visit "The city of dreams" in Andalucia. https://www.rondatoday.com/