Andalucian cuisine and the culinary heritage of Cádiz
What to eat in Cádiz? Andalusian cuisine is the backbone of what you'll find in Cadiz, and it's rich in history and flavor. Influences from Phoenician, Roman, and Moorish cultures are evident in dishes like pescaíto frito (fried fish), abaja de pescado (fish stew), gambas al ajillo (garlic prawns), tortillitas de camarones (shrimp fritters), cazón en adobo (marinated dogfish), and caldillo de perros (fish stewed in orange sauce). Meat lovers will also find plenty to savor, including guiso de rabo de toro (oxtail stew), pork, goat, lamb, and perdiz estofada (partridge casserole).
Cadiz is a city renowned for its rich culinary heritage, drawing on a diverse range of cultural and historical influences to create a truly unique and mouth-watering dining experience. As a coastal city, seafood is at the forefront of Cadiz cuisine, with an abundance of options ranging from fish, squid, and prawns to lobster and sea-snails.
For those who prefer meat, there are also plenty of options, including traditional dishes of pork, lamb, goat, and game dishes like perdiz estofada (partridge casserole).
How about a tapas tour in Cádiz?
Taste the best of the city on a gastronomical tapas tour with a local guide. Discover local establishments, each one with its own specialties, in a relaxed environment.
What to eat in Cádiz? Vegan, vegetarian and gluten free?
Vegetarian and vegan food in Cádiz is fairly easy to find. Many dishes are made to order so the scrambled eggs with asparagus and iberian ham can be made a delicious vegetarian dish simply by asking the waiter to cut out the Iberian ham.. 🙂 The same goes with many other dishes served in Cádiz. Salads and soups often have a sprinkling of ham or something else. The key here is just ask the waiter!
Many restaurants also have gluten free bread on offer. I even saw a waiter run across the road to a local bakery to get gluten free bread for one of his clients even as they were sitting down at their table looking at the menu! If you are reserving a table for the next day, make sure that you mention it (or any other food related needs.) I can pretty much guarantee that they will be eager and happy to help you out.
Check out this video from Cádiz Turismo showcasing some of the traditional dishes available.
Tapas and Menú del Día in Cádiz
One of the best ways to experience Cádiz cuisine is through tapas – small portions of local dishes served on a small platter. The city boasts the "Ruta del Tapeo" (Tapas Route), where local restaurants and tapas bars compete for the honor of having the best or most original dish.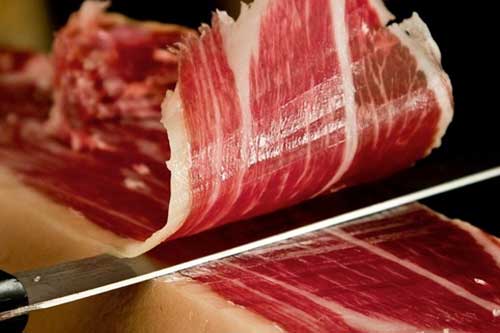 Another great way to experience Cadiz's cuisine is through the "Menú del Día" – a three-course meal including two dishes, bread, a drink, and dessert. Many restaurants have their menu del día options listed outside their door, offering a delicious and affordable option for a complete meal.
Here is a list of some of the most popular and traditional tapas and dishes in Cadiz, along with English translations:
Pescadito frito: Fried fish, Cadiz-style
Abaja de pescado: Fish stew
Gambas al ajillo: Garlic fried prawns
Tortillitas de camarones: Shrimp fritters
Cazón en adobo: Marinated dogfish
Caldillo de peros: Fish stewed in orange sauce
Guiso de rabo de toro: Oxtail stew
Perdiz estofada: Partridge casserole
Tomato soup?
Sometimes you will come a cross a gazpacho or tomato soup similar to porra from Antequera but it might be a recipe from Jerez de la Frontera! https://www.rondatoday.com/savoring-tradition-the-best-tomato-soup-recipe-from-jerez-de-la-frontera-in-spain/
For the sweet tooths!
And let's not forget the sweets! From Arab pastries like alfajores to Spanish nougat (turrón), tocino de cielo (pudding with syrup and egg yolk), and honey-coated fritters (pestiño), there's no shortage of treats to end your meals on a high note.
Alfajores: Arab pastries
Turrón: Spanish nougat
Tocino de cielo: Pudding made with syrup and egg yolk
Pestiño: Honey-coated fritters
Don't forget the vino!
Wine and sherry are integral parts of the dining experience in Cádiz. The north of the city is known as the "Sherry Triangle," and the towns of Sanlúcar de Barrameda, Puerto de Santa María, and Jerez de la Frontera are some of the most important producers of sherry and brandy.
With four main types of sherry to choose from – amontillado, fino, oloroso, and dulce – there's sure to be a variety that perfectly complements your meal.
Finally, Cádiz also hosts a number of food and wine fairs throughout the year, including the Pestiñada in January, the Erizada in January, and the Food Convention in December. These events provide a wonderful opportunity to taste a variety of dishes, meet local chefs and food producers, and get a real sense of the city's gastronomic heritage.
The Mercado Central in Cádiz
The Mercado Central in Cadiz is not only a famous indoor food market located in the historic center of the city, but also one of the oldest covered markets in Spain, having served the people of Cadiz for over 186 years. Visitors can stroll through the market's stalls and indulge in the traditional Andalusian cuisine, such as fried fish, tapas, and sherry. Read more here: https://visitingcadiz.com/the-mercado-central-in-cadiz/
---
Ronda Today
Everything you need to know before you visit Ronda "The city of dreams" in Andalucia. https://www.rondatoday.com/
Visit Cádiz
Planning on visiting Cádiz? Tourist information. Monuments. Hotels. Activities. City guides: https://visitingcadiz.com/
The Caminito del Rey
Find tickets for the Caminito del Rey: https://www.caminodelrey.es/
Wildside Holidays – Spain
Take a trip on the Wildside! Discover the wildlife and nature of Spain, its Natural and National Parks and find the top wildlife, activity and walking holiday companies.
Iberia Nature Forum
Struggling with identifying those bugs and beasties? Why not check out the Iberia nature Forum! https://iberianatureforum.com/